Category: Liquid Mechanical Testing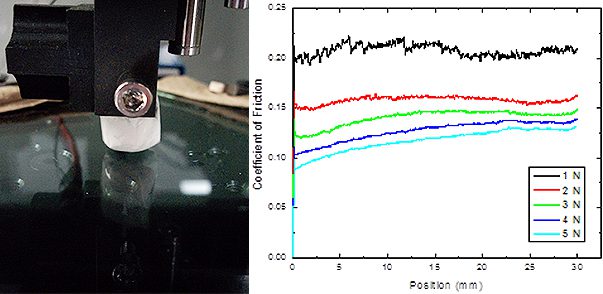 Self Cleaning Glass Coating Friction Measurement
Self cleaning glass coating possesses a low surface energy that repels both water and oils. Such a coating creates an easy-clean and non-stick glass surface that protects it against grime, dirt and staining.  The easy-clean coating substantially cuts the water and energy usage on glass cleaning. It does not require harsh and toxic chemical detergents, making it an eco-friendly choice for a wide variety of residential and commercial applications, such as mirrors, shower glasses, windows and windshields.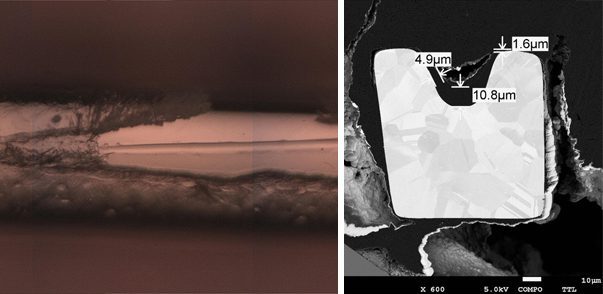 Grooved Stent Coating Failure Using Nano Scratch Testing
Drug–eluting stent is a novel approach in stent technology. It possesses a biodegradable and biocompatible polymer coating that releases medicine slowly and continuously at the local artery to inhibit intimal thickening and prevent the artery from being blocked again. One of the major concerns is the delamination of the polymer coating that carries the drug-eluting layer from the metal stent substrate. In order to improve the adhesion of this coating to the substrate, the stent is designed in different shapes. Specifically in this study, the polymer coating locates at the bottom of the groove on the mesh wire, which brings enormous challenge to the adhesion measurement. A reliable technique is in need to quantitatively measure the interfacial strength between the polymer coating and the metal substrate. The special shape and the small diameter of the stent mesh (comparable to a human hair) require ultrafine X-Y lateral accuracy to locate the test position and proper control and measurement of the load and depth during the test.