Monthly Archives:
January 2017
5 AXIS Chromatic Confocal Measurement
Nanovea has delivered on the request for a 5 axis measurement system combined with a chromatic confocal line sensor for fast QC of specialized parts. Watch short Video. To learn more about Nanovea's Profilometers Learn More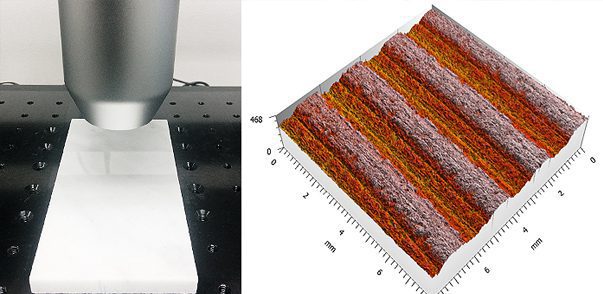 Machining Finish Quality Using 3D Profilometry
Machining finish is a result of different cutting techniques exhibiting different surface features. Flatness, roughness and texture of a cut/machined surface is vital to its end use. Accurate clean cut reduces the further work on grinding and rough edge removal. For example, when marble tiles are manufactured, inaccurate and rough cutting may lead to mismatch during the tile floor installation.  Quantitative measurement of the surface texture, consistency, roughness and others is critical in improving the cutting/machining processing and quality control measures.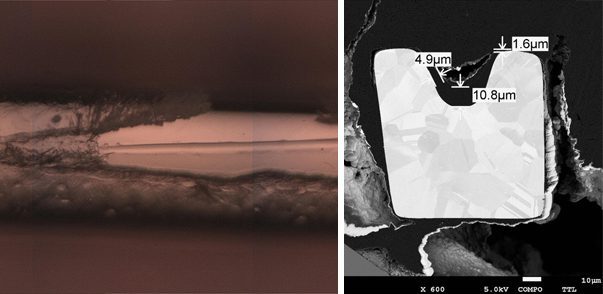 Grooved Stent Coating Failure Using Nano Scratch Testing
Drug–eluting stent is a novel approach in stent technology. It possesses a biodegradable and biocompatible polymer coating that releases medicine slowly and continuously at the local artery to inhibit intimal thickening and prevent the artery from being blocked again. One of the major concerns is the delamination of the polymer coating that carries the drug-eluting layer from the metal stent substrate. In order to improve the adhesion of this coating to the substrate, the stent is designed in different shapes. Specifically in this study, the polymer coating locates at the bottom of the groove on the mesh wire, which brings enormous challenge to the adhesion measurement. A reliable technique is in need to quantitatively measure the interfacial strength between the polymer coating and the metal substrate. The special shape and the small diameter of the stent mesh (comparable to a human hair) require ultrafine X-Y lateral accuracy to locate the test position and proper control and measurement of the load and depth during the test.