Monthly Archives:
June 2013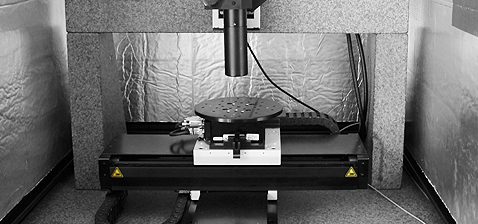 NANOVEA'S MOST ADVANCED 3D PROFILOMETER EVER
Nanovea has taken the High Speed HS1000 3D Profilometer to the next optional level. In place of the standard Optical Pen the Line Sensor, in Nanoview option, has been combined with both linear and rotational staging.
SPECIFICATIONS:
Speed: 1800 "Lines" or 324,000 "Points" per second
Line Length: 1.33mmNumber of Points: 180
Spot Size: 3.6um Pitch: 7.4um
Working Distance: 5mm
Z Measurement Range: 110um
Resolution: 20nm
Biomechanical Hardness Evaluation of Tissue
The ability to accurately measure mechanical properties in the fields of Life Science has recently become an important aspect of many current studies. In some cases, understanding the mechanical properties of soft biological surfaces have helped uncover the mechanical effects of diseases. Understanding mechanical properties provides a context for identifying the local mechanical behavior linked to specific changes. It is also critical in the development of artificial bio-materials. In this application, the Nanovea Mechanical Tester, in Nanoindentation mode, is used to study the biomechanical hardness and elastic modulus of 3 separate areas of prosciutto (fat, light meat and dark meat).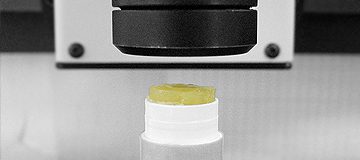 Petroleum Jelly Surface Measurement Using 3D Profilometry
Non-contact surface measurement has the advantage that eliminates the possibility of surface alteration of a given application (deformed, scratched or moved). This may be critical, for example, when measuring soft surfaces of films, gels and many others. Additionally, many of these soft surfaces will have transparent or absorptive surfaces leading to measurement error with some optical techniques. In this application the Nanovea ST400 Profilometer is used to measure the extremely soft and
transparent surface of lip balm made of a petroleum jelly.