Monthly Archives:
August 2012

Wood Coatings Wear Resistance using Tribometer
In this application, the Nanovea Tribometer is used to measure the wear resistance of a coated wood pencil. The linear wear test (ASTM G133) was used with a 3mm stainless steal ball tip; many other tips could have been used. The 1st test was performed for 4 hours and then a 2nd test was performed for 1.5 hours. After wear testing the 3D Profilometer integrated on the Tribometer was used to profile the wear track.

Micro Scratch Depth Measurement Using 3D Profilometry
In this application the Nanovea ST400 Profilometer is used for depth measurement of a row of micro scratches created using Nanovea's Mechanical Tester in scratch mode. In seconds the Profilometer, with a single line pass in 2D mode, provides area and depth  measurement.
Here are examples of materials we tested this month: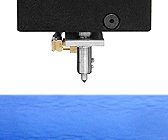 Mechanical:
• Nanoindentation compression of amorphous silica
• Nanoindentation yield strength of micro wire
• Nanoindentation fracture of micro ceramic
• Nanoscratch of catheter coatings
• Microindentation puncture of thin film
• Micro Scratch of glass samples
• Macro Scratch of clear coat samples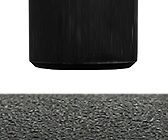 3D Non-Contact Profilometry:
• Elastomer molds roughness measurement
• Roughness of plastic electronic surfaces
• Finish of die cast samples
• Volume & Area of pitted surface
• Shape & Form of polymer samples
• Contour of micro circuit surface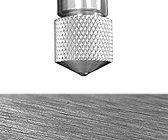 Tribology:
• 12 & 24hr Wear & Friction testing of ceramic, polymer and alloy samples in synthetic bio fluid.